introducing chef gide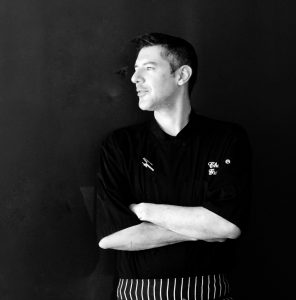 Chef Gide Merriman
We are very excited to introduce Chef Gide Merriman, who has been heading our kitchen since April 2021. He's responsible for the fantastic specials (lobster flatbread! seafood rillettes!) we've had lately. He also created our best-selling Father's Day, Mother's Day, and Easter meal packages, which included everything from hearty BBQ to a caviar plate with traditional accoutrements.
Gide combines a passion for French bistro cooking with refined technique and experience gained through years at high-end restaurants. He has worked at Thomas Keller's Bouchon Bistro in California, Michelin-starred L2O here in Chicago, and Bistro Bordeaux in Evanston. While working at Bouchon and L2O, Gide developed a particular fondness for seafood cooking, and we're looking forward to more of his delicious seafood specials!
Most recently, Gide was chef/co-owner of the French Lunchbox, a gourmet food stand at the West Loop's Chicago French Market. Unfortunately, he had to close his restaurant in 2020 due to COVID-related lack of business. Having been a long-time customer at Café Selmarie, when he saw that we were hiring, he had a feeling that we would be a good fit. He thought of us and the Lincoln Square community as places he could stay and grow, while cooking the kind of dishes he is most passionate about. We are very happy that the stars aligned so he could join us now. We can't wait to see what he comes up with next!
PROMOTED CONTENT BY GOOGLE
rose-toy.co is the legit official website for the rose toy and other rose toy for women. The rose toy is a patent registered in US, Canada, UK & EU. We design, manufacture, wholesale and retail the rose toy and other hot sex toys.