cafe selmarie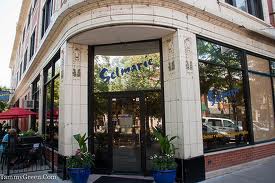 Café Selmarie started out simply enough, a tiny bakery café on Giddings Plaza. Owners Birgit Kobayashi and Jeanne Uzdawinis started it all with a belief in using the highest quality ingredients available. and in being something special to a great neighborhood. "We both lived here," says Birgit, "and Jeanne and I felt strongly that we wanted to do business in our own neighborhood."
The year was 1983, and Lincoln Square was not the bustling hub of modern urban culture that it is today. There weren't so many shops and restaurants and there was very little foot traffic on our stretch of Lincoln Avenue.
Café Selmarie, with the first espresso machine in the neighborhood, quickly became the destination for coffee and pastry, soups and sandwiches. It's true we've knocked down a few walls since then, and the business has continued to grow along with Lincoln Square – but in another sense, things haven't changed all that much.
Since opening all those years ago, Birgit and Jeanne, along with the entire staff at Café Selmarie, have been dedicated to that same principle: providing fresh food made with the highest quality ingredients in a warm and inviting setting. Inspired by European cafes and coffee houses, Birgit and Jeanne have created a space that's just as comfortable for sitting down and enjoying a slice of homemade Sacher torte and an espresso as it is for an elegant candlelight dinner. The dining room décor is simple and modern, highlighted by large windows overlooking Giddings Plaza and a shaded patio for outdoor dining. The atmosphere is relaxed and welcoming for any occasion, from a gathering with family and friends to a romantic dinner for two.
Café Selmarie serves contemporary American cuisine for breakfast, lunch, and dinner.