All of our menus are available here in PDF form. After viewing our menu PDFs, you can order online at our Toast online ordering page, or call us at 773-989-5595.
Our in-house bakery produces a wide range of pastries, tortes, pies, and cookies every day. View the bakery menu PDF here.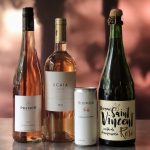 We serve Intelligentsia coffee, Numi organic tea, and a selection of beers, wines, and cocktails. View our beverage menu PDF here.